Twelfth Night
In August 2020 C venues hosts a free online showing of Twelfth Night from Avant Cymru to celebrate 35 years of Live Aid
Company: Avant Cymru Wales
Genre: Theatre/Classic/Contemporary
Date: Throughout August 2020
Free to watch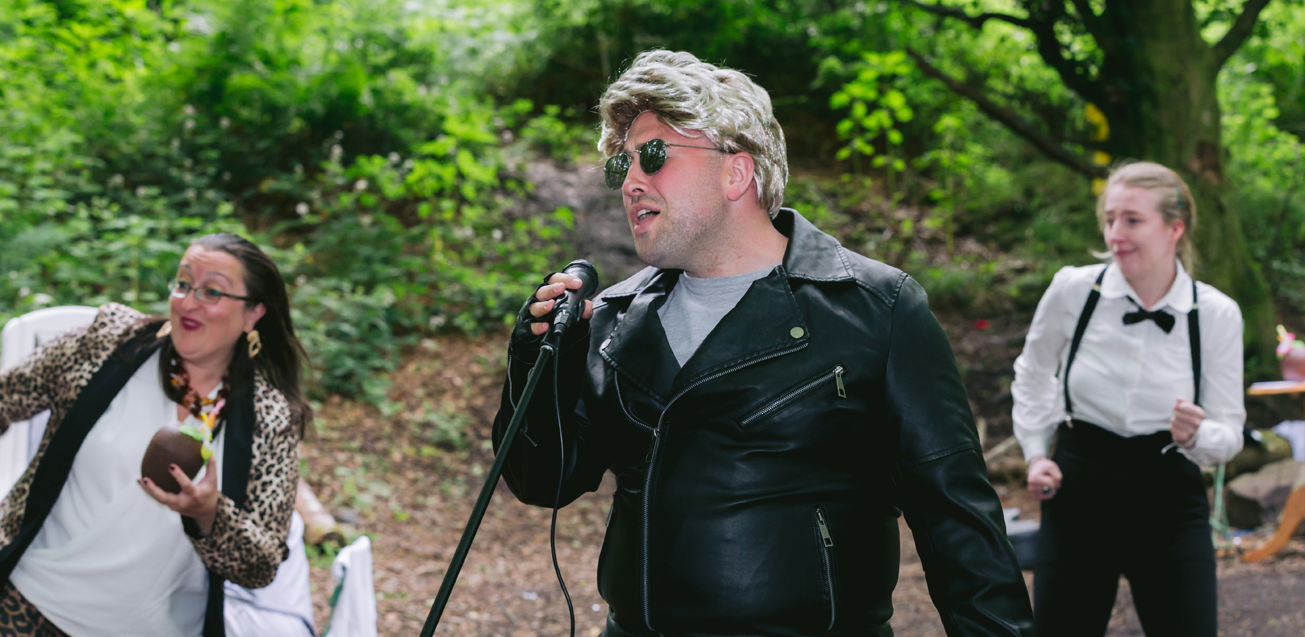 Avant Cymru aim to make Shakespeare relevant today. Avant worked with work experience students from RCT who spoke with us about how to make a relevant version for the area in 2020. Avant spoke about the dressing up aspect and felt that this was something common in the Welsh tribute scene, where local acts perform in the clubs and bars of the Valleys.

2020 is the 35 year anniversary of Live Aid, and as a way to remember the community global get together to support people in Ethiopia Avant decided that all the tribute acts would be acts who performed in Live Aid in 1985. Avant have changed some of the genders of some of the characters. Avant did this as we felt that some of the tribute acts matched the characters in the play. Twelfth Night is a comedy and Avant have had many discussions on the work of comedy in the 1600s and today, and how the characters are played to gain a comic status.

Twelfth Night is a comedy by William Shakespeare, written around 1601–1602. The play centres on the twins Viola and Sebastian, who are separated in a shipwreck. Viola (who is disguised as Cesario) falls in love with Duke Orsino, who is head over heels in love with Countess Olivia. Upon meeting Viola, Countess Olivia falls in love with her in her disguise. The play expanded on the musical interludes with plot elements drawn from the short story Of Apollonius and Silla by Barnabe Rich, based on a story by Matteo Bandello.

The title of the play is a reference to the twelfth night after Christmas Day, called the Eve of the Feast of Epiphany. It was originally a Catholic holiday and therefore, like other Christian feast days, an occasion for revelry. Servants often dressed up as their masters, and men as women. The actual Elizabethan festival of Twelfth Night would involve the antics of a Lord of Misrule, who before leaving his temporary position of authority, would call for entertainment, songs and mummery; the play has been regarded as preserving this festive and traditional atmosphere of licensed disorder. This leads to the general inversion of the order of things. The embittered and isolated Malvolio can be regarded as an adversary of festive enjoyment and community, led by Sir Toby Belch, "the vice-regent spokesman for cakes and ale"!

Avant Cymru last performed at C venues in 2018 with Blue Scar.

Website: www.avant.cymru
YouTube: Avant Cymru